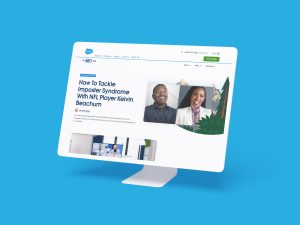 Salesforce
Reposition a prominent technology company as a thought leader and strategic partner to global business leaders.
Editorial positioning, content marketing strategy and workflow, training and workshops
THE CHALLENGE
Traditionally, Salesforce has heavily invested in product marketing as opposed to marketing its ideas and strategic importance to business leaders. The result is that while many people have heard of Salesforce, few people understand the full value of its products and perspectives. Salesforce decided to invest more deeply in content marketing to help strengthen its voice and build affinity with global business leaders. They enlisted our help to develop the editorial positioning, approach, and internal capacity that would enable their content marketing to resonate both emotionally and intellectually.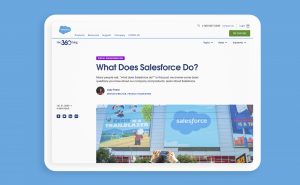 THE ASK
Help Salesforce transition from a technology company that sells products into a content company known for its strategic partnerships with business leaders.
THE EVOLUTION
We knew Salesforce would need a strong foundation to build from in order to achieve its ambitious vision. So we began by establishing a clear white space and editorial positioning Salesforce could own across all its content marketing. Instead of looking at people solely as customers to be developed, Salesforce was uniquely equipped to help business leaders take a "people-first" approach and distill tangible takeaways they could apply to their own business. 
The editorial positioning and principles helped instill an "audience first" mindset and established a strategic framework that everyone across the marketing team could tap into. Building from this foundation, we crafted a fresh editorial strategy for Salesforce's core editorial platform, the 360 blog. To set their team up for long-term success, we also trained over 60 members of their marketing team on the new strategy and conducted virtual editorial workshops to help them create value for their audiences in every interaction.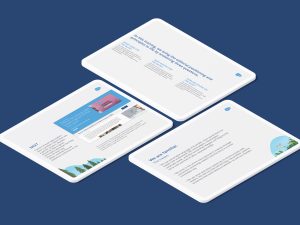 THE RESULTS
Our strategic framework and subsequent training created a mindset shift that prioritizes compelling content and storytelling. But our work hasn't just helped Salesforce create better content, it's helped change business leaders' perceptions of who Salesforce is and how its products and ideas can strategically impact their business. 
Long Dash's approach helped us enable a new generation of content strategists that are embedded within our lines of businesses and are true partners to our product teams. With this new thinking and approach, our team has had a greater impact on what stories to write to move Salesforce forward.