Salesforce
One of the world's largest software companies wants to help professionals everywhere get better at their jobs—whether or not they use their software.
Strategy |
Editorial |
Employee Experience
The
Challenge
For Salesforce to continue its ascendant growth, its customers and prospective customers must understand how it helps solve a range of business challenges. Its business is software, but its value is much more.
The
Journey
We are developing the strategies, experiences, and skills needed for Salesforce to build an audience of business professionals that see the company as a thoughtful partner to navigating their goals and challenges.
The
Solution
Brand narrative focused on new "partner and problem solver" positioning
Content strategy for Salesforce blogs and newsletters
Premium print and digital magazine, Vantage Point
Storytelling training for Salesforce's communications and marketing teams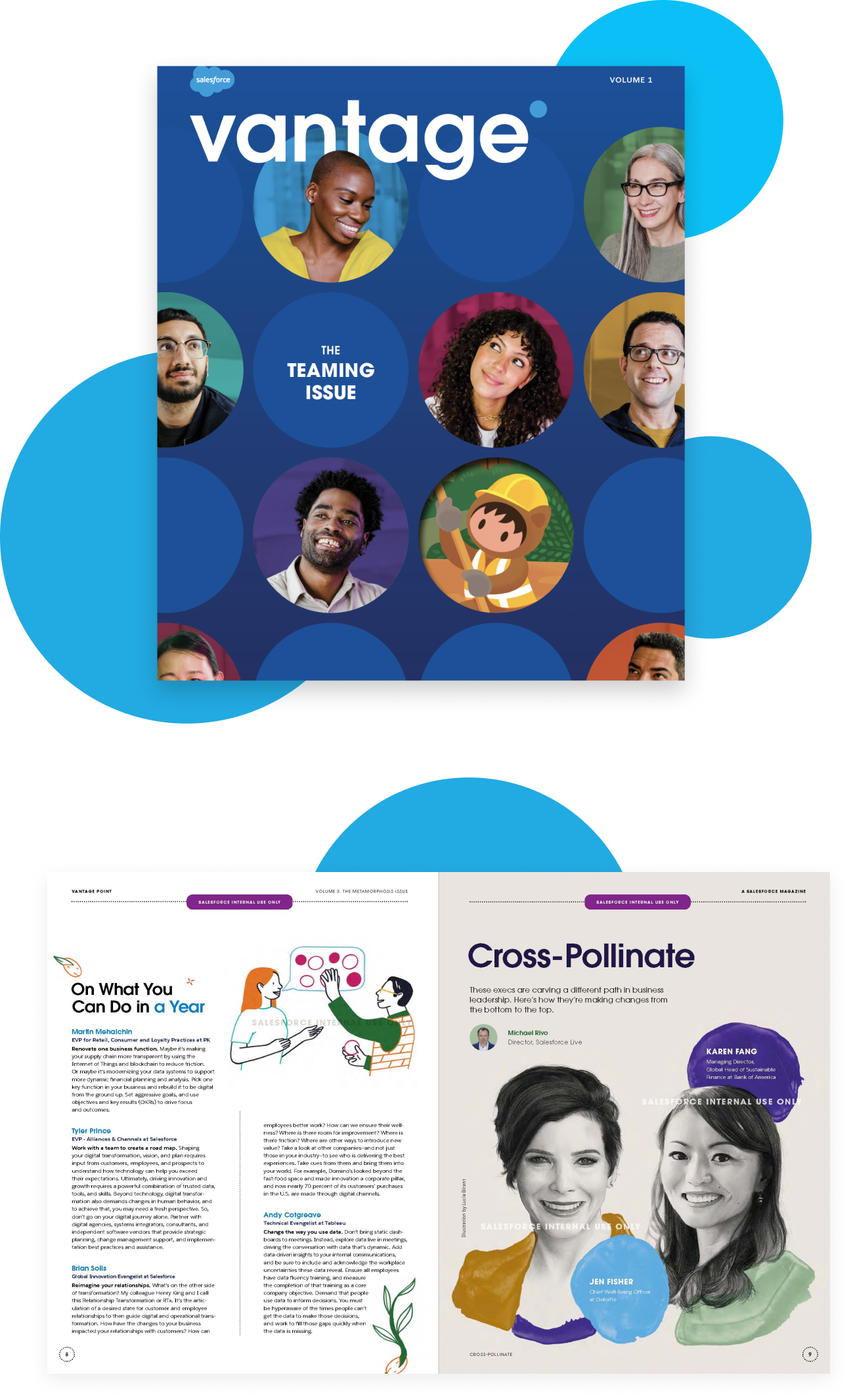 From software provider to partner to business leaders
Salesforce, a software company, doesn't want to be known just for its software. That may seem like a trite statement, something cooked up in a marketing meeting. Salesforce sold $21.3 billion in software and related services in 2021. It's one of the largest and fastest growing enterprise software companies in the world.
But what if, in order to chart a new phase of its evolution, Salesforce wants to offer value that transcends software? After all, there are now thousands of competitors in the industry Salesforce pioneered. For a business leader, the firehose of information and specifications for these products can be overwhelming. What if that business leader really needs a trusted partner in reaching her goals, before she even wants to think about software?
Salesforce wants to be known as the trusted partner. Because throughout its history, that's why the company has been so successful.
It sells software, but it does so in ways that solve real challenges for real people—understanding the customer, improving marketing and sales processes, and, especially with its recent acquisition of Slack, making it easier for organizations big and small to communicate.
So how does Salesforce become known for that? That's where Long Dash comes in.
We came in to change the narrative about Salesforce, to be seen as a trusted problem solver to business professionals everywhere—many who may not use Salesforce's products, or even know what Salesforce is. In a lot of ways, Salesforce needed to operate like a media company. Successful media companies build loyal audiences by educating, informing, and entertaining people. For several years now, that's been the pursuit of our partnership with Salesforce—building a media operation that reaches a global professional audience.
A focus on audience relationships
If business leaders want fresh thinking on how their peers are tackling common problems or trends in consumer behavior, we want them to rely on Salesforce, just like they can rely on Fast Company or Harvard Business Review. So instead of marketing focused exclusively on Salesforce's products, we focused on the big issues business leaders were grappling with. For example, how do you measure trust? Or, what happens when 23,000 employees give up meetings for a week? This approach—applied across all of Salesforce's channels—builds audience relationships built on insight and value, not just products.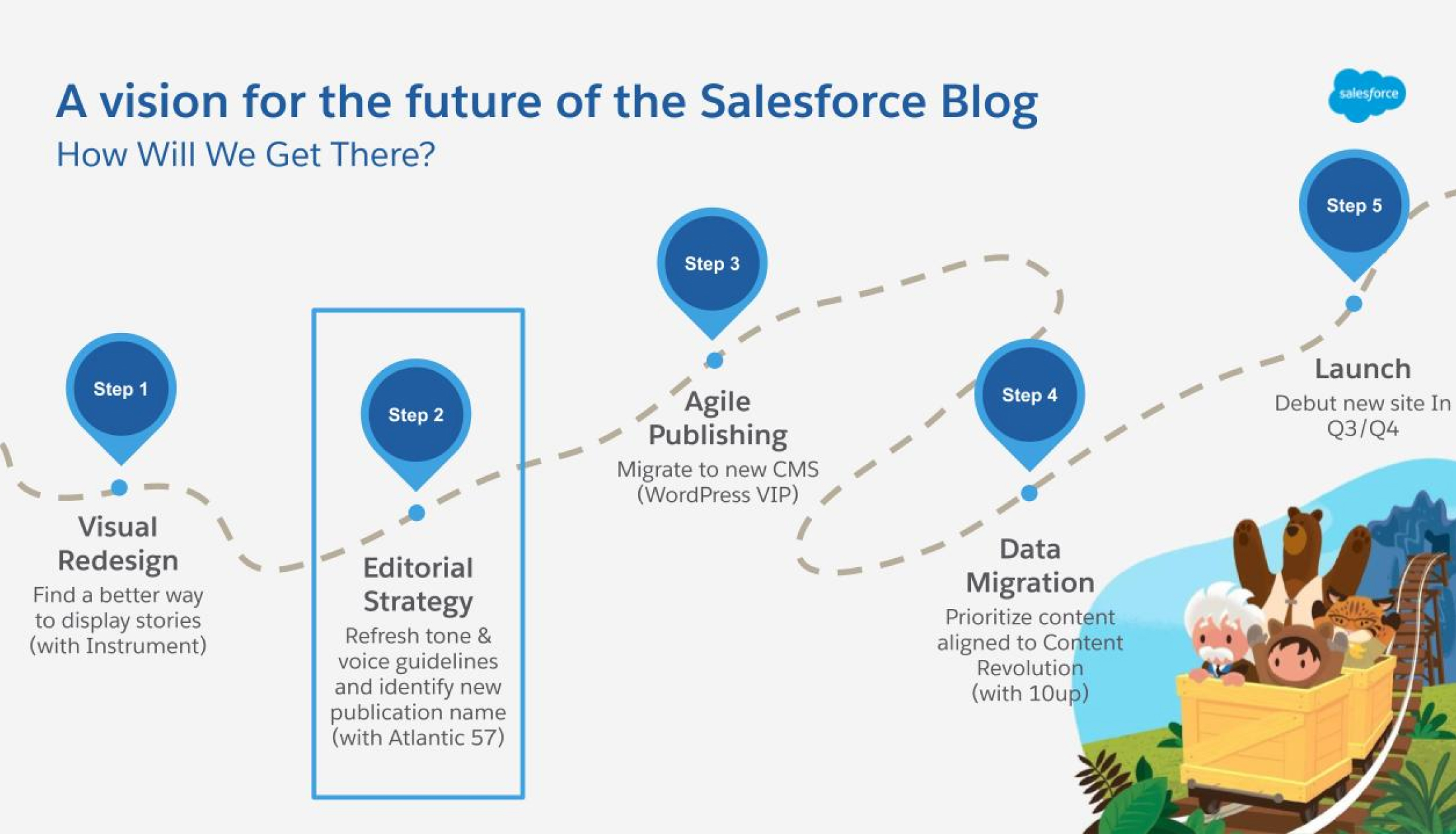 A premium experience for premium audiences
Brands are competing for a finite amount of attention, especially among influential audiences. To reach the business leaders that Salesforce wants to reach, we need to create editorial products that are valuable, memorable, and fit into their busy lives. So we created a print magazine. Print? In 2022? Yes. Executives' two most preferred forms of media for business insights are longform feature articles and books, and 84 percent say they prefer to read a report offline than on a device. These leaders also have a complex set of problems that can't be answered with Google. The magazine, called Vantage Point, is all about those complex problems, like how to evolve your data strategy to meet customers' privacy expectations or how to navigate the unique demands placed on female executives. You can subscribe to it here.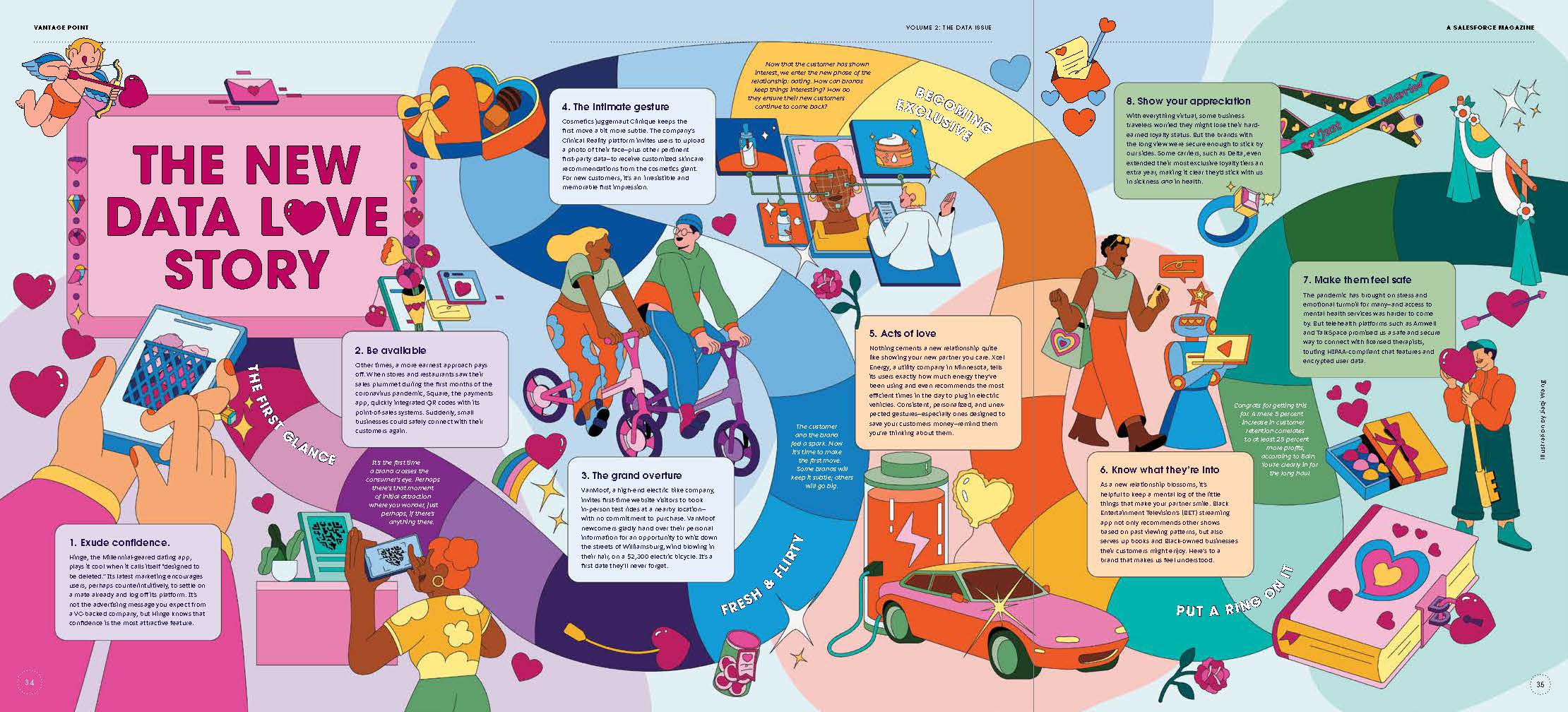 Cultivating an audience-first mindset across the company
Salesforce's employees are some of the smartest in their industry on how organizations of all kinds can adapt to changing customer needs. But when you're so deep in that world, it can be hard to communicate that expertise clearly. We've trained hundreds of people on Salesforce's communications and marketing teams to take a more journalistic approach to writing, building their own audiences, and positioning their message for the current media landscape.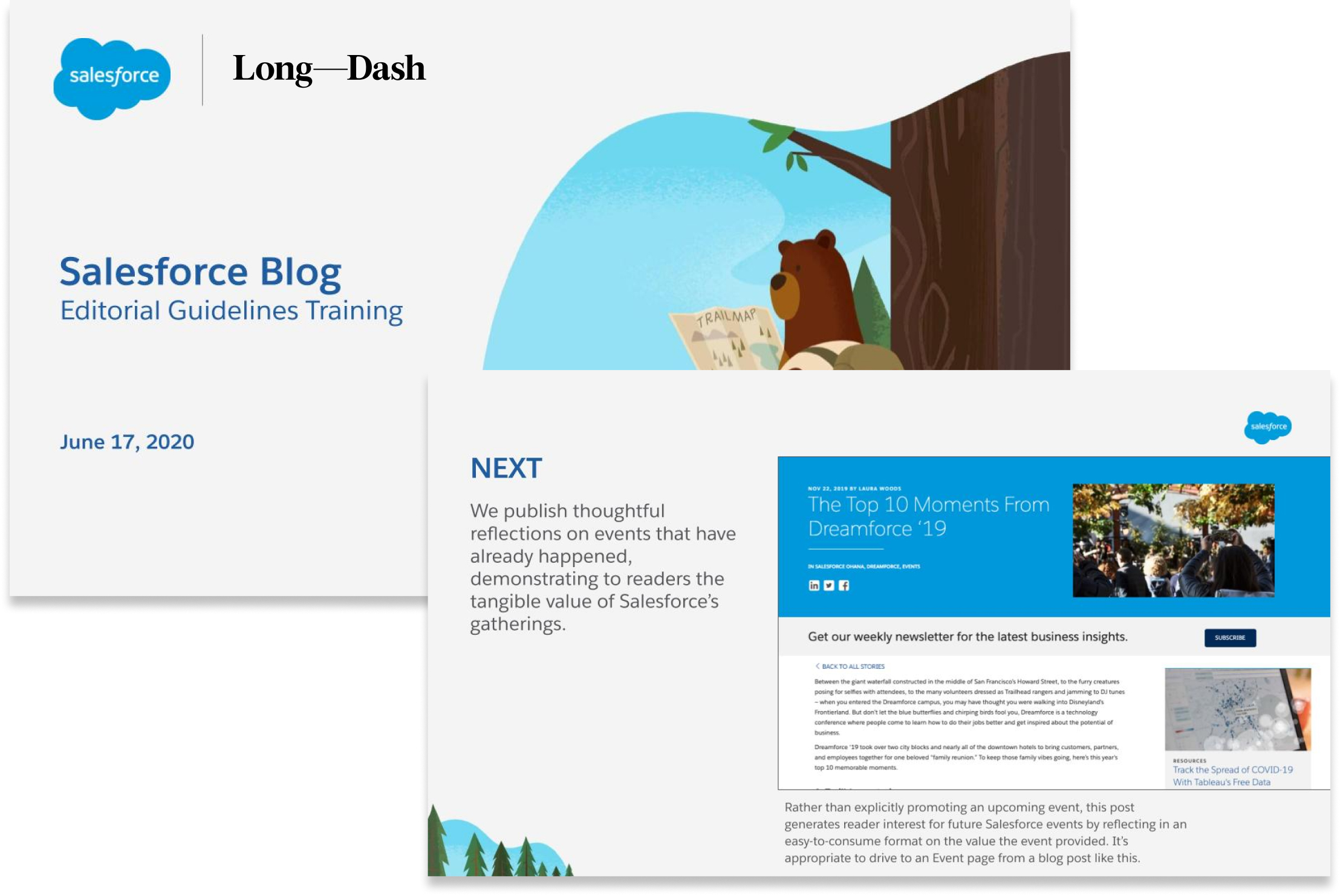 It's been so meaningful to partner with a company that is committed to helping professionals get better at their jobs. Salesforce aspires to be like Disney, Netflix, and Peloton (that's why they launched a streaming channel)—brands that mean something more than any single product or service. That may sound lofty, but consider that those companies were once seen as an animation company, a DVD mail service, and a stationary bike company, respectively. We're excited to help shape the next chapter of Salesforce's history.
Long Dash's approach helped us enable a new generation of content strategists that are embedded within our lines of businesses and are true partners to our product teams. With this new thinking and approach, our team has had a greater impact on what stories to write to move Salesforce forward.
VICE PRESIDENT, SALESFORCE