interview
What Can Brands Do To Foster Social Justice? The Southern Poverty Law Center Has Ideas.
A conversation with president and CEO Margaret Huang on what brands can learn from the Southern Poverty Law Center's 'lifetime of work'.
Natasha Shields is vice president of product at Audacy. She is a former product manager at The Washington Post and is a Long Dash alum. Janeen Williamson is a diversity, equity, and inclusion practitioner. She formerly led business partnerships at Long Dash and NPR.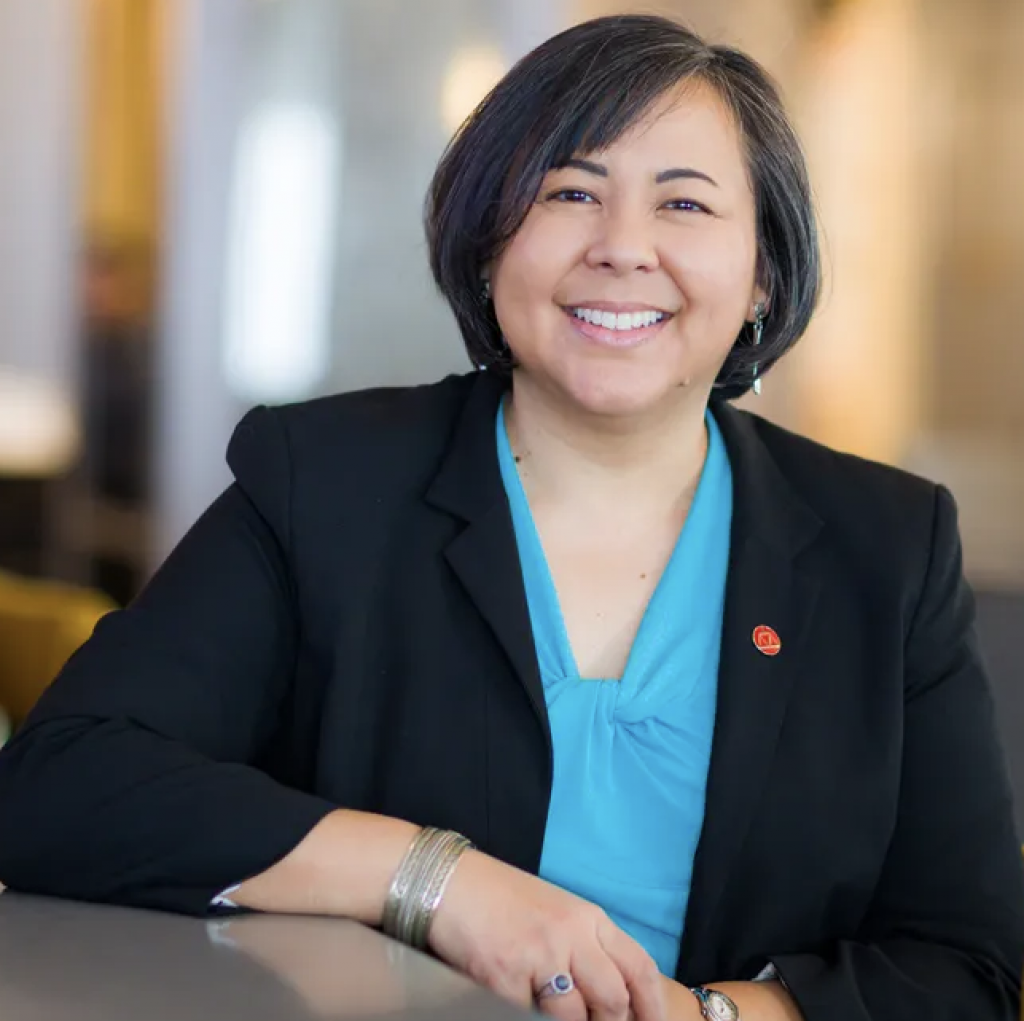 Margaret Huang is the president and chief executive officer of the Southern Poverty Law Center (SPLC), a catalyst for racial justice in the South and beyond that works in partnership with communities to dismantle white supremacy, strengthen intersectional movements, and advance the human rights of all people. Prior to the SPLC, Margaret served as the executive director of Amnesty International USA, where she was responsible for leading campaigns to protect the human rights of migrants and refugees, torture survivors, gun violence victims, and activists and protestors across the globe. For transparency, SPLC is Long Dash client.
As the nation reflected on the life and legacy of civil rights leader John Lewis, Long Dash's Natasha Shields and Janeen Williamson spoke with Huang about the Southern Poverty Law Center's lifetime of work fighting hate and social injustice, and what brands can learn from it.
This interview has been edited for length and clarity.
The internet and the rise of new digital spaces have evolved the ways hate is communicated and expressed. How has the SPLC stayed true to its mission and history while evolving to meet the challenges presented by this new digital world?
The SPLC has been monitoring hate groups and ideologies for a long time. When we started, that activism was much more in-person—monitoring and tracking where notices were sent out about meetings, or even finding newspaper reports about groups that had gathered to protest something. These days, we're spending a lot more time monitoring online. That is where a lot of the activism and recruitment is taking place for many hate groups. 
It shifts the nature of tracking, and it also creates new risks. One of the recent projects the SPLC engaged in was a collaborative project with American University's PERIL. We put out a toolkit for parents and caregivers who notice that their children and young people are spending a lot more time unmonitored on social media during the COVID-19 pandemic.
We're trying to be responsive to the ways in which groups are working. It is very clear that many of the hate groups we monitor are seeing the pandemic as a great moment for them to recruit and bring new people into the ideology. 
How does the SPLC define hate groups and extremists?
The SPLC has been monitoring hate groups for a few decades now. It's not a complicated definition. It is a group of people who embrace an ideology, who try to recruit others, and who take ideological positions involving hatred of a particular group of people. It's easy to think of them all as just bad groups, but it's quite extraordinary how many different levels of hate ideology there are.
We keep a list of hate groups that are active in the United States. We monitor and track these groups every year and add new ones when we find them. We're also trying to establish a barometer of where hate activism is taking place, who's involved, and how many communities they're in. We publish this in an annual report, "The Year in Hate and Extremism," in the first quarter of the year.
Having this list enables communities, elected officials, and local law enforcement to be aware of the activities of these groups. It also enables communities to take steps to reject those ideologies and to educate their community about why it's important not to embrace them. Ultimately, we hope to work with our supporters, allies, and legislators to put more protections in place and to make sure that our institutions are not allowing those kinds of ideologies to flourish on their premises.
It's not a temporary battle. If you're going to take these issues on, it's not because it's a moment and you think you can do a press statement or a couple of steps, and then move on. This is the work. This is a lifetime of work.

As we lose civil rights heroes, most recently John Lewis and C.T. Vivian, how is the SPLC thinking about keeping the momentum going around racial injustice and empowering the next generation to carry on this critical work? 
The good news is the baton has been passed really well. If you look at the leadership of so many of the social movements that are driving activism and protests today across the country, it is young people who have taken them up. Everything from the movement for Black lives to climate justice to ending gun violence—these are all movements that are being led by young people. It's incredibly inspiring to follow them, to be honest. 
We are deeply committed to supporting these social movements and young people, particularly in the work that they're trying to move forward. A lot of our voting rights work, for example, is focused particularly on ensuring that young people are registering to vote, taking the census, and participating in our civic life.
One major part of John Lewis's legacy was voting rights. As we head into November's election, what should we be paying more attention to? How can brands take ownership and responsibility for the right to vote?
Well, the level of voter suppression efforts is truly extraordinary. The elections in Georgia, just under two months ago now, where poll places were closed, machines weren't working, and people stood in lines for hours to be able to cast their vote in the primary—that is a signal of what's going to be happening next.
One of the most important things for brands to do is to support their employees and staff to take the time that's going to be needed to participate in the elections. Even better, they can support helping people get to the polls—whether it's offering rides to people who may not have vehicles, ensuring that people have the time they need off of work to go vote, or maybe even providing PPE to employees so that as they're standing in line, they're protected as much as possible. 
I think it's important for all of us to treat this election and the voting process as both the special opportunity and responsibility that they are. I look forward to the day when it's a national holiday to go and vote. But until that time, there are things that our organizations can do to make that as much of a reality for our folks as we can.
Sign up for OnBrand
Our weekly digest featuring ideas on the future of brand.
Many brands have released statements or have taken stances on Black Lives Matter. What do you think that brands can do to better advocate for racial justice and human rights in the United States?
It's not a temporary battle. If you're going to take these issues on, it's not because it's a moment and you think you can do a press statement or a couple of steps and then move on. This is the work. This is a lifetime of work. If you're going to get into it, you have to be absolutely committed that you're going to do it internally in your organization and externally in the work that you're doing. 
That's a pretty heavy lift for a lot of folks. I think it's important to acknowledge that upfront, because if you're not willing to do the hard work, then I think it will be perceived as insufficient or even insincere. It is really hard. Even at an organization like the SPLC, where we have always had a commitment to racial justice, we still have our own work to do internally and externally.
Being prepared to bring in the experts and the resources to help our staff and our teams learn, adjusting how we do our work, and rethinking the ways that we engage with one another are all really important. It's an investment of energies and resources and time. But ultimately, it will enable us to be much more effective at both our internal and external work. That's why we do it. Because we believe, as part of our values, that this is the way we have to be in the world.
As you approach the SPLC's 50th anniversary, what do you see as its next chapter?
I would love for the SPLC to be seen as part of the communities where we are. We don't want to be seen as a national organization, or even a big local organization. Instead, we want to be recognized as an organization grounded in our communities and aligned with their ambitions and goals, in terms of how to shape political decisions and elections. We want to help lift up what's important to the social justice and civil rights movement in the South. 
What advice would you share with other leaders as they consider addressing issues of racial and social justice?
The best advice is that everything is always changing. While we are confronted by some pretty significant shifts in the ways we work, what we work on, and how we're doing it, it can be an opportunity—even as it poses challenges. The trick is to make sure that you're seizing the opportunities where you can. I think that this moment enables many of us to have a lot of hope that we can actually, finally, see some real changes happening. That's an incentive to redouble our efforts and not let all of the challenges weigh us down.