Allstate
A company dedicated to protecting people from life's uncertainties envisions new ways to champion consumers.
Strategy |
Branding |
Editorial |
Design
The Challenge
Help Allstate make a difference in the communities it serves and keep it at the leading edge of consumer empowerment.
The Journey
We conceptualized and built a thought leadership vision and brand platform to grow Allstate's voice as an advocate for consumers.
The Solution
Thought leadership strategy

Naming and branding for a new brand platform

Design and development of brand platform website

Brand journalism editorial management and operations

Social media, newsletter, and channel distribution

Awards and events campaign
THE RESULTS IN NUMBERS
400,00
annual visitors to The Renewal Project
23,000
subscribers to The Renewal Project's weekly newsletter
Winner
of the People's Choice Award in the Webby for Good category, and Best Branded Content Partnership by Ad Age
A new vision for thought leadership
Committed to making a difference in the communities it serves, Allstate sought to inspire leaders and individuals to use their influence for social change. But to do this with impact and authenticity, Allstate needed a vision for its thought leadership that would be grounded in its corporate brand and social impact mission. That vision also needed to be compelling, future-focused, and flexible enough to evolve over time. 
Our multi-year partnership with Allstate focused on doing just that—creating and implementing powerful thought leadership strategies that could evolve over the years to keep pace with shifting market dynamics and audience behaviors, all while staying true to Allstate's core objectives and brand identity.
A new brand to spark important conversations
Our initial vision for Allstate's thought leadership was to build a brand journalism platform that would celebrate the local stories of ingenuity moving America forward. We wanted the platform's name to reflect the impact change makers were having in their communities, and we landed on The Renewal Project. The theme of "renewal" expressed the impact of local change makers, while "project" reflected the tangible nature of their work.
Then, we designed a visual identity that would capture The Renewal Project's essence. We did not consider the visual direction in a vacuum. Rather, we painted the visual story alongside the editorial voice and Allstate's own corporate brand. Our logo design combined Allstate's recognizable brand mark with the down-to-earth grit of The Renewal Project.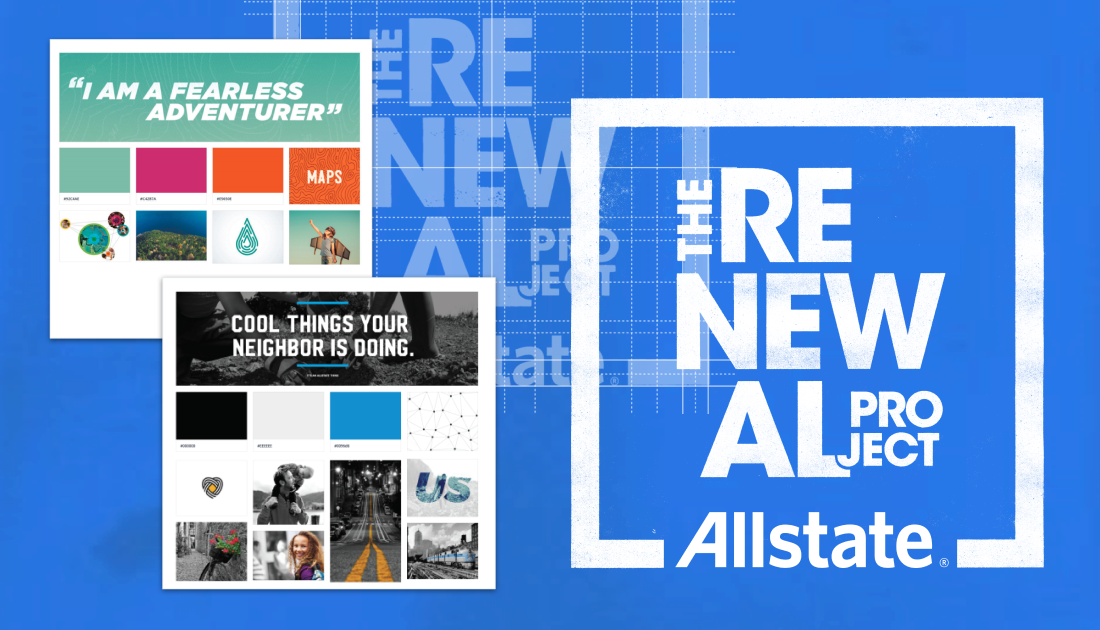 A place to build community
Once we had defined a vision for The Renewal Project, we designed and built a digital hub where it would live. Our team of journalists and audience growth editors managed both The Renewal Project's overarching strategy and day-to-day operations, producing and elevating content on a daily basis that spotlighted local community innovation on each platform. We also extended the platform across multiple social channels and a weekly newsletter, designing native social content to travel through the digital ecosystem. We also adapted content based on what was happening in the world to meet the needs of the audience. For example, when the pandemic hit we used the newsletter to help change makers find much-needed resources at a difficult time, treating the newsletter like a digital bulletin board.
One of the main themes of The Renewal Project's storytelling was: How do we build healthy, equitable communities amid such a stark national division? We shared resources from Allstate's work on advancing healthy debate and uncovered stories on how Americans—from high school teachers to CEOs—can foster "better arguments" in classrooms and boardrooms.  
Our work with Allstate quickly grew in recognition and scale, with over 400,000 annual visitors to The Renewal Project and 23,000 newsletter subscribers. The platform penetrated 10 percent of the millennial market and won multiple awards for its content and focus on social impact. The Renewal Project also expanded to become not just a thought leadership platform, but an awards and convening platform to recognize change makers with financial grants. The Renewal Awards, a sub-brand of The Renewal Project, annually awarded $40,000 each to five nonprofits across the country after receiving thousands of submissions. In addition to offering grants to grassroots organizations, we helped turn The Renewal Awards into a series of Renewal Summits across the country where change makers could learn from each other as well as from notable speakers.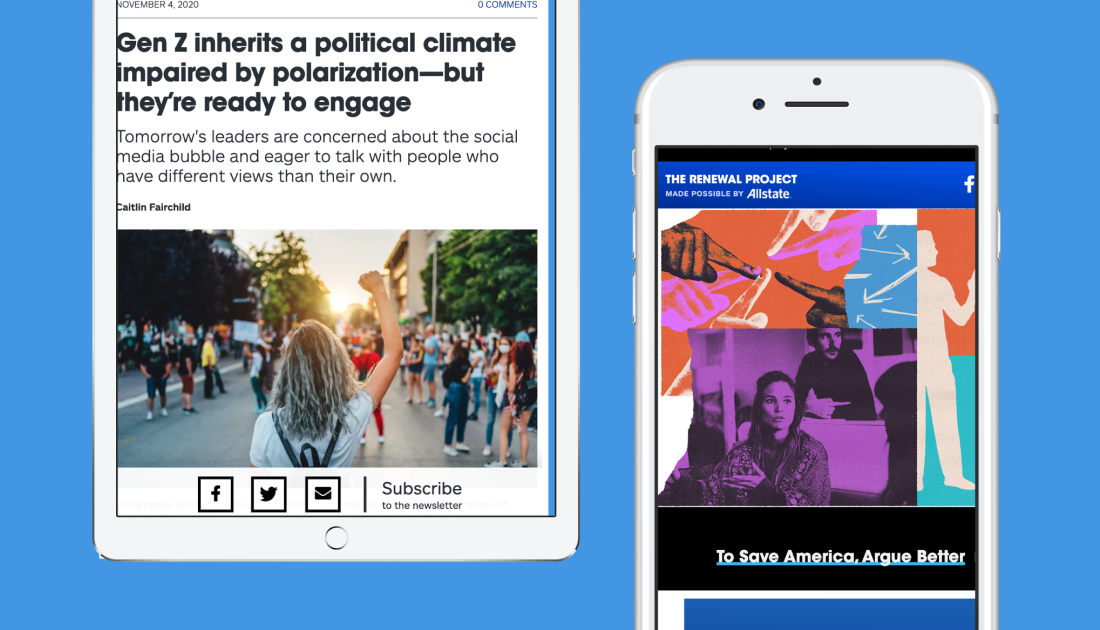 THOUGHT LEADERSHIP STRATEGY
Evolving for enduring relevance
Over time, we realized the consumer empowerment movement was changing, and Allstate needed a more future-focused vision to keep pace with its evolved brand, business objectives, and changing landscape. It wasn't enough just to tell stories of change and make financial awards; Allstate needed to play a more active role in driving that change. 
We led a design process to understand the needs of Allstate's audiences and map the thought leadership landscape. That process led us to new editorial positioning centered around championing consumer rights. This was a subtle but important shift in our strategy to ensure the platform's ongoing relevance. The new vision became a rallying point for Allstate to galvanize leaders to use their influence for social change.