P/Y/T
A clean beauty brand launches to stand out in a crowded marketplace.
Branding |
Design |
Marketing
The Challenge
When P/Y/T Beauty was preparing to launch its brand, it had a great product but needed assistance with positioning and differentiating itself in the crowded beauty market. P/Y/T needed to stand out to rise above the noise and gain immediate traction.
The Journey
We defined and launched a distinct brand experience for P/Y/T, which spurred its rapidly growing direct-to-consumer business and expanding retail distribution.
The Solution
Brand narrative focused on confident beauty that doesn't compromise personal ethos
New visual identity and brand voice
Marketing strategy and assets, including sales collateral, DTC performance marketing, PR collateral, and in-store displays and signage
Content strategy for social channels, blogs, and newsletters
THE RESULTS IN NUMBERS
8
major retailers—including Amazon, Macy's, Target, Walmart, and Ulta Beauty—now carry P/Y/T Beauty products
Launching an innovative brand in a crowded marketplace
P/Y/T Beauty was founded by women on a mission to change the face of clean beauty. With a shared concern for harmful ingredients, passion for sustainability, and the desire to be real with customers, they set out to build a brand with integrity. After more than two years of research and development and seemingly endless product trials, P/Y/T Beauty was born.
Collectively, we knew great products weren't enough for the brand to be successful. We needed to develop the core brand narrative that not only differentiated P/Y/T Beauty to connect with millenials and Gen Z, but also helped educate the wider community around clean beauty in general.
A new standard in beauty products and marketing
Our customer wanted a better makeup option she could trust—to not let her down and to be made (and marketed) with integrity. Most importantly, she wanted a brand to tell it to her straight. P/Y/T takes its clean, high-performing products seriously, but it's not afraid to have a little fun and laugh at industry conventions, all the while making it easy for customers to buy with zero regrets.
Through user, category, and marketing research, we developed P/Y/T's overall brand positioning: Beauty that sets you free. P/Y/T wanted to free its customers from the typical trappings of the beauty category through nonsense free, harsh-chemical free, cruelty free, sticker-shock free, hassle free and guilt free products. This led to a "Beauty without the BS (bad stuff)" campaign.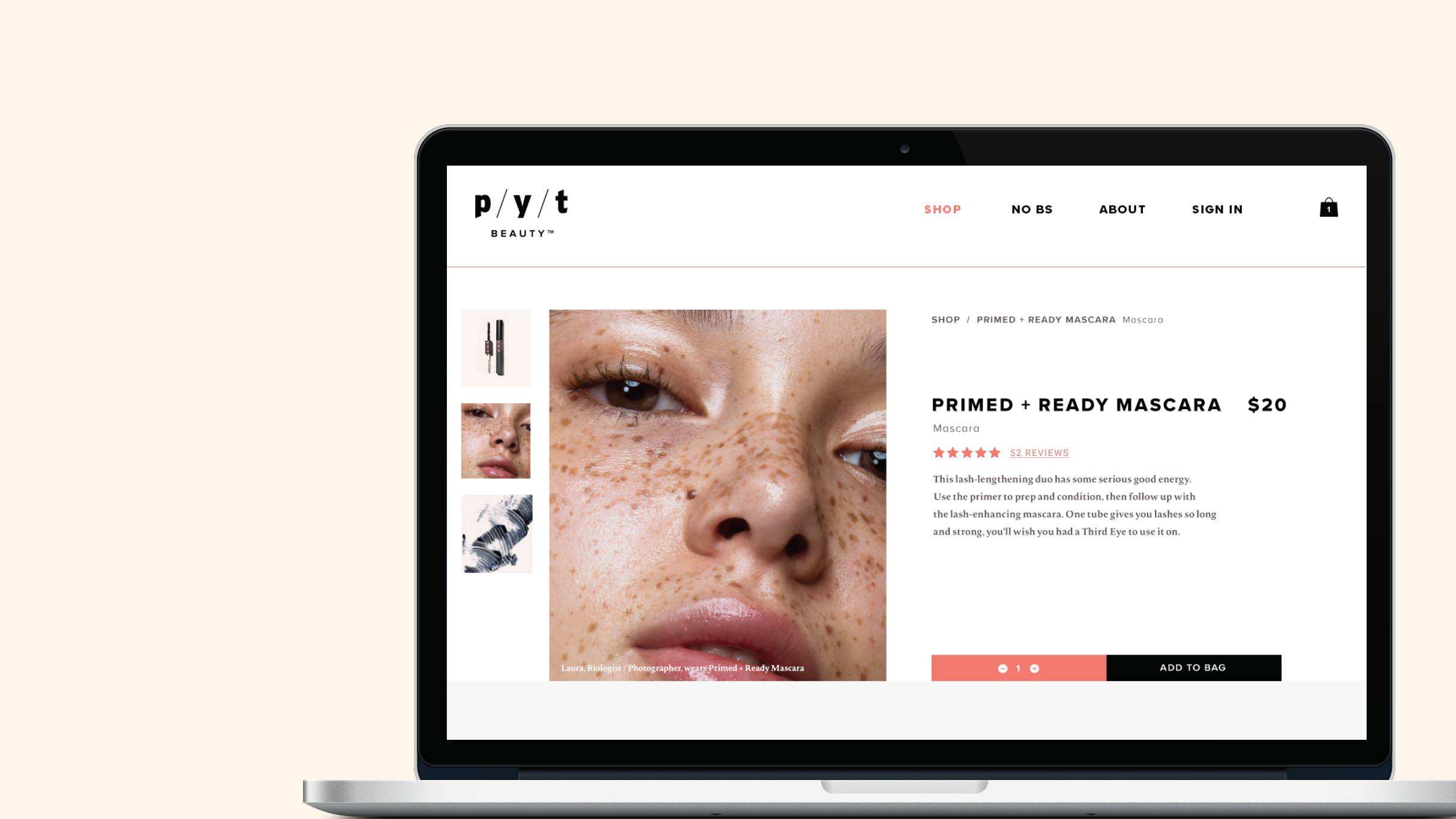 Aligning customer needs with the brand's core narrative
For P/Y/T Beauty to be successful, we needed to create consistent, compelling messages that communicated its core brand narrative, while at the same time providing the most relevant information to encourage customers to make a purchase. We developed four key target segments based on key personas, and developed nuanced content and messaging needs for each. We mapped these needs to the customer journey to ensure brand communication, marketing, and content was successful in reaching P/Y/T's audience with the right information at the right moment along their purchasing journey to help convert them to loyal customers.
Bringing the core narrative to life
With the brand strategy solidified and a firm understanding of how best to reach P/Y/T's audiences, we created the design system for P/Y/T Beauty, including the visual identity, tone and voice, and overall look and feel of the brand. We leveraged these assets to develop an e-commerce site, performance marketing assets, social content, PR collateral, in-store displays and marketing materials, as well as sales materials used in retailer distribution expansion. Our mission across all these assets: to ensure every touchpoint in P/Y/T's brand experience delivers beauty without the BS.