Lumina Foundation
A foundation employs strategic communications to make post-high school education available to all.
Strategy |
Editorial |
Employee Experience
The
Challenge
Lumina Foundation needed to galvanize a broad and diverse network in order to achieve its ambitious post-high school education attainment goal by 2025.
The
Journey
We built a strategic communications practice within Lumina Foundation from the ground up, enabling its team to broaden and deepen relationships with a diverse network in service of its goal.
The
Solution
Quantitative and qualitative audience research, with segmentation analysis and typologies
Editorial strategy
Audience network strategy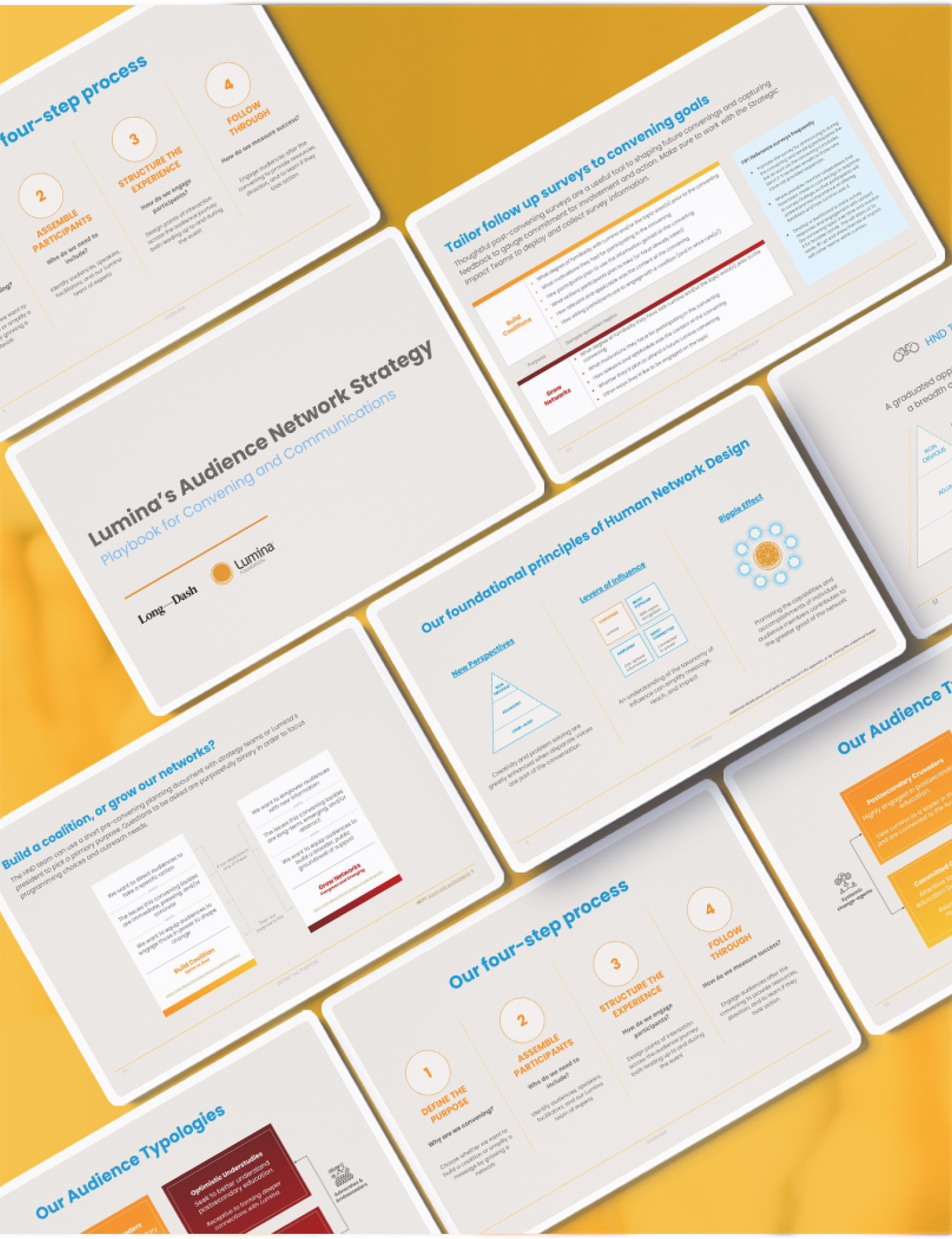 Mobilizing an audience around the goal of educational attainment
Lumina Foundation stands at the forefront of increasing Americans' access to—and success in—post-high school education, which positively impacts individuals, communities, and the country at large. Lumina aims to reach an ambitious attainment goal of 60 percent of Americans holding post-high school education credentials by 2025.
To get there, Lumina realized it wasn't enough to reach federal, state, and local policymakers; Lumina also needed to reach community change makers, business leaders, and a broader subset of the general public. But since many of these audiences were less familiar with Lumina's work, there was a lot to be done to increase their awareness of the attainment gap, inform policies that help close it, and mobilize support among those with influence.
Lumina recognized it needed to establish a stronger communications function to deepen relationships with its audiences and engage them on their terms.
Understanding audiences based on their values, not their demographics
We started by establishing a baseline understanding of Lumina's "audience quotient," or its ability to capture and hold the attention of its target audiences. Lumina had a strong and respected reputation among policymakers, but it was less clear how to mobilize other audiences whose influence and support were critical to closing the gap in post-high school education attainment. We needed a better understanding of who Lumina was trying to reach and how to get through to them, so we embarked on an in-depth audience research effort. Based on our research, we segmented Lumina's target audiences into a set of typologies defined by people's emotions and values related to education, instead of their job titles or demographic information.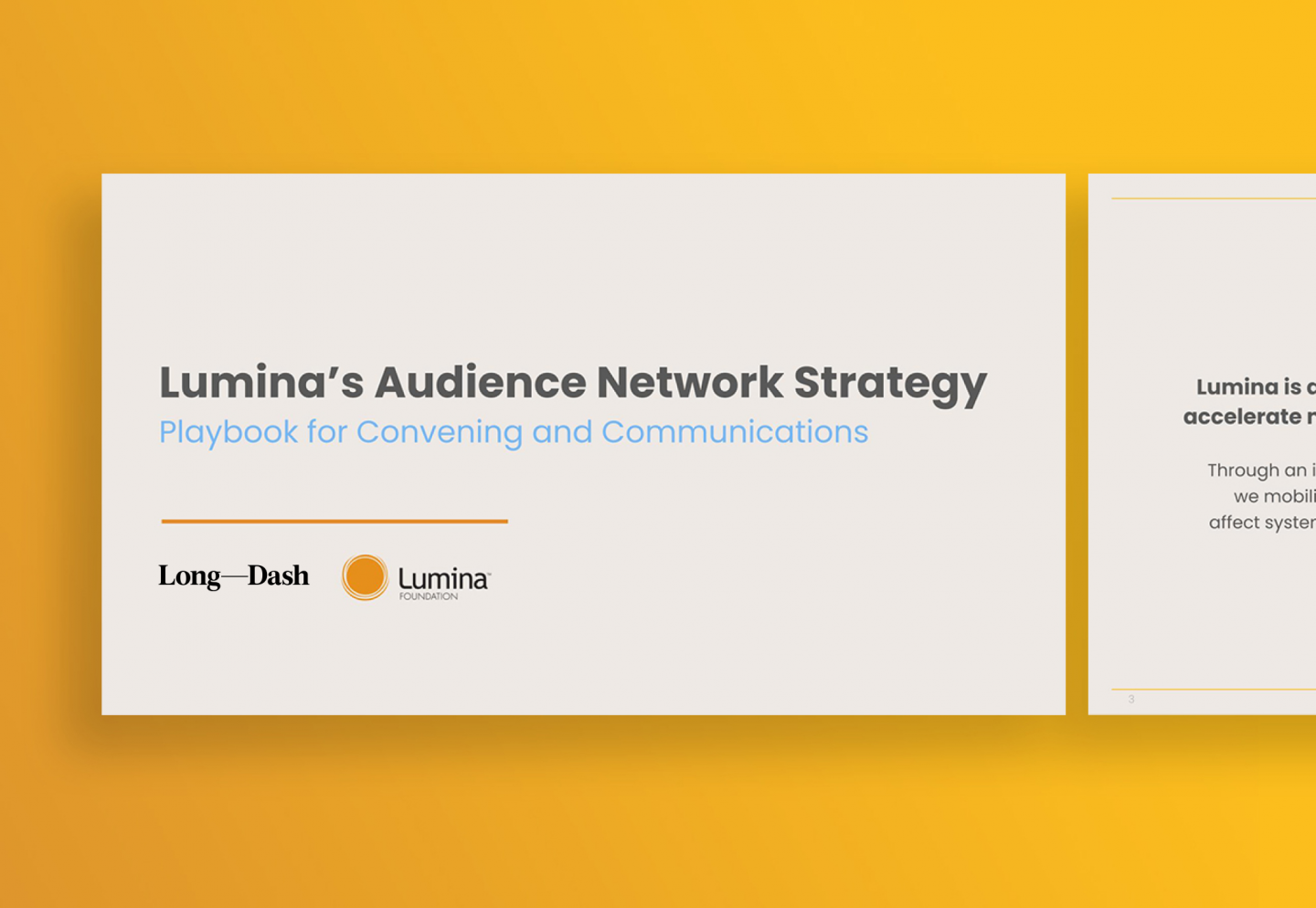 Recasting content under a single, unified strategy
Once we had insight into the needs of Lumina's audiences, we used it as an anchor for an editorial strategy. Lumina had high-quality editorial publications, like Focus magazine, but it didn't have a guiding strategy in place to connect all its content in a way that laddered up to its goals. It also tended to wall up its content in PDFs or print publications, which shrank its footprint in the digital and social ecosystem. To solve these challenges, we developed an editorial strategy defining the messages, editorial themes, formats, and frequency for Lumina's content, and tailored our recommendations to reach and engage Lumina's target audience segments. We also conducted a series of training sessions to help Lumina's team internalize the new approach so they could own it and implement it going forward—and be champions for strategic communications within the organization.
AUDIENCE NETWORK STRATEGY
Harnessing the power of network influence
Several years after our initial engagement, Lumina had made tremendous progress in developing a best-in-class strategic communications practice. It had deeper and broader relationships with its target audiences and was ready to take its efforts to the next level by understanding not just how to influence its audiences, but also understanding how its audiences influence each other. To do this, we conducted a fresh body of primary research to uncover how the people in Lumina's network form connections with one other and share ideas. Some, for example, preferred to act as change agents for systemic educational reform.
Others preferred to amplify the change agents' work to their own networks. Based on these insights, we identified storytelling tactics that played into these influencer styles and could amplify Lumina's impact across its network. We tested our tactics in prototype form at one of Lumina's virtual convenings. Then we incorporated learnings from that pilot into a final playbook of recommendations to help Lumina further develop and catalyze its relationships.
Long Dash's approach to audience understanding gave us a strategic blueprint for engaging new and existing audiences that is measurably advancing our mission to make learning after high school accessible to everyone.
KEVIN CORCORAN, STRATEGY DIRECTOR FOR COMMUNICATIONS