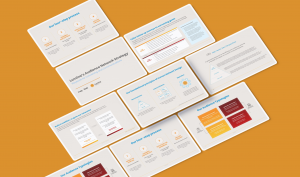 Lumina Foundation
An educational foundation galvanizes its network to make post-secondary education available to all.
Primary audience research, audience network strategy, convening prototype, messaging, engagement playbook
THE CHALLENGE
In an era of increased social unrest and ever-expanding socioeconomic chasms, Lumina Foundation combats inequities by working to ensure 60 percent of adults have a post-secondary learning certificate by 2025. Recognizing that ambitious change happens neither overnight nor in a vacuum, they saw the need to identify and mobilize people who aligned with their fundamental goals.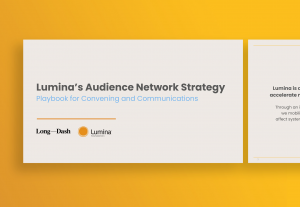 THE ASK
Expand and activate Lumina's network of diverse audiences to work towards making education accessible to all.
THE EVOLUTION
Lumina Foundation needed a more nuanced approach to the convenings and communications that were key to building and activating their network. This required them to understand their audiences in a way that went beyond job titles or industries. They needed to understand what really drove them as human beings, and what storytelling tactics would engage them to the point of urgency and action.
Applying Human Network Design, a working theory on how networks form, grow, and sustain, we identified tactics to bring in new perspectives, leverage influence, and amplify points of impact across the network.
Through deep audience research, we identified two key audience types (dubbed "change agents" and "ambassadors") and mapped their journeys to uncover insights and opportunities we could apply in practice. We used the findings as a blueprint, testing them in a real-time virtual convening. With learnings from this pilot convening in hand, we developed a customized playbook to plan, facilitate and measure engagement across Lumina's network.
THE RESULTS
The resulting audience network strategy now drives Lumina Foundation's coordinated communications and convenings, helping them engage and mobilize their constituents to work towards a more inclusive and equitable education system.
Long Dash's approach to audience understanding gave us a strategic blueprint for engaging new and existing audiences that is measurably advancing our mission to make learning after high school accessible to everyone.
5x

Engagement rates for our pilot convening were 5x the typical engagement rate of Lumina's convenings, serving as a proof of concept for an approach rooted in storytelling and user research